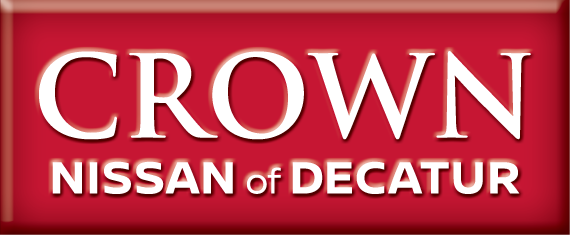 About Crown Nissan of Decatur
The whole world looks different through the windshield of a new Nissan. You know the feeling - everything just seems brighter and better from behind that steering wheel.

The only thing better than driving off the lot in your own new vehicle is helping others experience that satisfaction. That's what we do here at
Crown Nissan in Decatur
. It's a pretty great job, and one we take very seriously. We never forget that our success is dependent on our customers' satisfaction. That focus helps us do the best job possible, and has contributed to our high volume of repeat business.
We work hard to cultivate a welcoming and helpful atmosphere. To assure our customers always have ready access to any assistance they need, we recruit knowledgeable and experienced staff for all departments. Whether you're in the early stages of researching makes and models, or know what you want and drive onto the lot ready to deal, we welcome the opportunity to serve your needs and to exceed your expectations.
Crown Nissan in Decatur is firmly committed to doing everything in our power to provide every customer with complete satisfaction through the entire continuum of our relationship. Our automotive service department is equipped with the latest essential technology and our qualified service staff is kept current on all phases of Nissan repair, service and maintenance.
It has been our privilege to sell and service new and used Nissans in central Illinois since 1980. Our customers are not numbers on some spreadsheet - they are our friends and neighbors. That's why a strong sense of community is evident in every employee of Crown Nissan. We hope you'll give us a chance to help you with your next vehicle purchase or repair. We honestly think you'll be pleasantly surprised at discovering the right dealer attitude makes as much difference as the right car. Read more @ CrownNissanOfDecatur.com
Monday
8:00am - 8:00pm
Tuesday
8:00am - 6:00pm
Wednesday
8:00am - 8:00pm
Thursday
8:00am - 6:00pm
Friday
8:00am - 8:00pm
Saturday
8:00am - 5:00pm
Sunday
Closed
Contact Crown Nissan
* Indicates a required field
Crown Nissan of Decatur on Facebook