About Crest Cadillac
There's a thin line between good and great, but the distinction between the two is significant enough to impact where and with whom one might decide to shop. Over a decade of continuous innovation and envelope pushing has put Cadillac on the upper side of the line and we've made it our job to bring the company's legacy of greatness to north Texas.

At Crest Cadillac in Frisco, Texas, we're known for something called the Crest Experience, which involves providing premium customer service in all interactions and all areas of the dealership, from sales and finance to parts and service. Driven by integrity, teamwork and innovation, our staff is committed to providing an exemplary experience for owners of and those shopping for luxury Cadillac cars in Frisco and near Dallas.
We've worn the Cadillac Crest badge honorably for over 30 years, watching it develop from a shield and wreath design to a longer, leaner emblem representative of the brand's philosophy to never stop growing. Over the course of three decades, Cadillac's evolutions have also inspired us to never stand still or rest on our success and to always push the boundaries of greatness. That's why Crest offers a full line of concierge-style amenities such as complimentary valet pickup and delivery for both prospective and existing customers when it comes to searching for a new car or receiving service or maintenance.
As we provide more for those we serve it allows us to explore our customers' lifestyle needs beyond more than just a cursory overview; to pay great attention to detail when inspecting and refurbishing used inventory; and to do whatever else it takes to provide superior customer service that meets the standards of excellence set by Cadillac. These are benefits that pay off for our customers in more ways than one and they're part of what's helped us build a loyal customer following.
Whether you're in the market for a new Escalade, ELR, CTS, CTS-V, ATS, SRX or XTS, you'll find Cadillac's renowned luxury vehicle lineup at Crest Cadillac in Frisco, Texas. Visit us soon and find out what the Crest Experience is all about.
Monday
8:30am - 8:00pm
Tuesday
8:30am - 8:00pm
Wednesday
8:30am - 8:00pm
Thursday
8:30am - 8:00pm
Friday
8:30am - 8:00pm
Saturday
9:00am - 8:00pm
Sunday
Closed
About Mike Brosin, Managing Partner at Crest Cadillac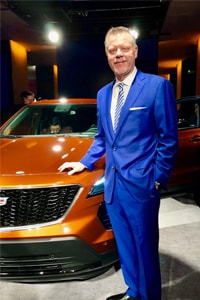 Managing Partner Mike Brosin was born in Portland, Oregon, and now lives in Texas. He attended Southern Arkansas University. His hobbies include cooking, wine and golf. He enjoys watching the Cowboys and Mavericks.
Mike worked his way up to managing partner from the trenches. Beginning in sales over 20 years ago, he became a top national salesman before becoming a Managing Partner. As a leader, he is a strong believer in knowing every aspect of the business, and still enjoys being at work every day alongside his staffers to help with the heavy lifting.
Many industry leaders talk about the importance of listening to customers, but Mike puts it into action. "If you give customers your full attention, a lot of that attention comes back to you." He sums it up thusly: "Customer Attention equals Customer Retention."
Mike has introduced numerous changes based on customer feedback, showing he takes to heart the message, "Here, the customer is always going to win." That success has earned him loyal customers, enthusiastic employees and numerous awards for customer-satisfaction and sales performance.
Make an Inquiry
* Indicates a required field
Crest Cadillac on Facebook