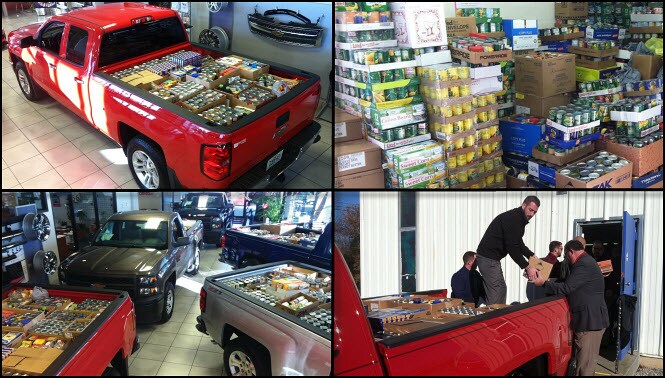 Reliable Chevy's 4th Annual Big Lot'A Food Drive was a big hit last month, bringing in over 7,000 non-perishable and canned food items from members throughout the Springfield community. Donated to Grand Oak Mission Center, a ministry of the Green County Baptist Association whose mission it is to provide clothing and food for those in need, the edible goods were used to prepare a Thanksgiving meal for less fortunate families.
Held from Nov. 1 to Nov. 22, this year's Big Lot'A Food Drive was our largest one yet. We collected thousands of canned and non-perishable food items, filling up five large pickup truck beds, which we used to transport the food to Grand Oak Mission Center. To encourage people to donate during the event, we offered customers a complimentary oil change for bringing in 10 non-perishable items to our dealership. Due to the support of our fellow community members, we were able to make the holiday a little brighter for local families and we look forward to continuing our charitable efforts.
Reliable Chevy always strives to support the Springfield area and local organizations. We hope our initiatives lead to community growth and bring people together.